We are in the process of preserving USFL video. More than three-and-a-half decades have passed since the USFL last played football, and video of its games is in more danger every day of being lost or destroyed. If you have any video, including partial or complete games, coaches film, highlights, news footage, coaches shows or anything else, please contact us.
Check out the searchable USFL stats from the Stats Crew.
Order the book, The United States Football League, 1982–1986.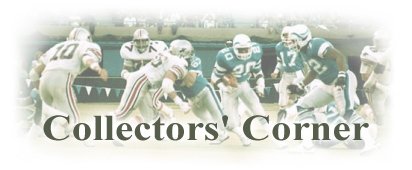 USFL Collections
Welcome to the USFL site's Collectors' Corner. This page will feature USFL and USFL-related collections from around the country and even around the world. Please contact us if you would like your memorabilia featured here. Click on the names below to check out each person's collection. Enjoy!
Featured USFL Collections

The Essential USFL Library

I am often asked what sources I used for this site and for USFL research in general. Here are some of the best sources of USFL information:

The USFL Chronicle by Paul Reeths
The $1 League by Jim Byrne
1984 Sporting News USFL Guide and Register
1985 Sporting News USFL Guide and Register
The All-Time USFL Player Register by Tod Maher
League and team media guides and game programs.