UPDATE (July 14, 2022): I'm excited to unveil this opportunity to preserve the entire video library of the USFL. These videotapes were the league's archive until being turned over to Halcyon Days Productions in 1985. An estimated 400+ games remain preserved on tape. The videotapes won't last indefinitely, however, and the footage must be converted to a digital format to be preserved and accessed. How can you help? Check out the USFL Video Library Preservation GoFundMe campaign. Please contact me, Paul Reeths, with any questions.
Check out the searchable USFL stats from the Stats Crew.
Order the book, The United States Football League, 1982–1986.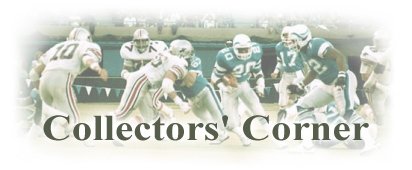 USFL Collections
Welcome to the USFL site's Collectors' Corner. This page will feature USFL and USFL-related collections from around the country and even around the world. Please contact us if you would like your memorabilia featured here. Click on the names below to check out each person's collection. Enjoy!
Featured USFL Collections

The Essential USFL Library

I am often asked what sources I used for this site and for USFL research in general. Here are some of the best sources of USFL information:

The USFL Chronicle by Paul Reeths
The $1 League by Jim Byrne
1984 Sporting News USFL Guide and Register
1985 Sporting News USFL Guide and Register
The All-Time USFL Player Register by Tod Maher
League and team media guides and game programs.