Save the USFL Tapes! The United States Football League video library is at risk. How can you help? Learn more about our campaign to save USFL video, then check out the USFL Video Library Preservation GoFundMe campaign. Please contact me with any questions.
Join the Save the USFL Video Archive Facebook group for updates.
Looking for news and updates on the new USFL?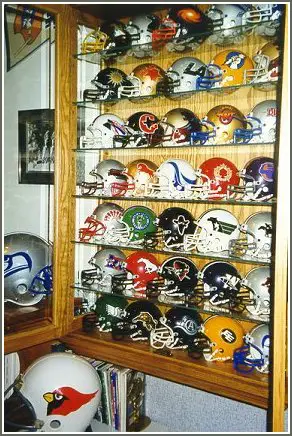 Collector: Channing Smith
Location: Leavenworth, KS
Occupation: family physician
Collecting Since: seriously since 1996
Favorite USFL Team(s): Panthers and Breakers
Other Sports Collecting Interests: Seahawks, NFL, CFL, WFL, WLAF/NFLE
Channing Smith's Collection Highlights

Most of the USFL pennants (also CFL/WFL/NFL/WLAF)
Full set of mini helmets
USFL, CFL and WFL (Csonka autographed) game footballs
Many CFL/USFL/NFL/WFL media guides and programs as well as schedules, tickets and patches of the USFL and other pro teams
2 game worn helmets (Seahawks and Cardinals)
2 game worn jerseys (Mich Panthers and Det Lions)
Many autographs (personal favorites being Anthony Carter and Steve Largent)
1. What interests you in the USFL?
I was a big fan of the league as a teen - more nostalgia here. I also feel the league could have succeeded were a few things done differently. Nostalgia is definitely the #1 reason, though the thrill of the hunt for hard to find items is also a big draw.
2. How did you get started collecting USFL memorabilia?
I was able to pick up an '83 Panther media guide and '83 championship program several years ago. This got me interested in memorabilia. I had been primarily collecting football cards up to that point, but the card hobby has gotten carried away and turned me off to it. I was dabbling in NFL memorabilia a little during this time, but the two aforementioned USFL books really brought me back to my love of the USFL and memorabilia collecting.
3. What item began your collection?
As above: an '83 Panther media guide and '83 Championship program.
4. Tell us about yourself and your other hobbies.
I am 30 years old, married to a wonderful wife and have 2 beautiful boys. I am currently serving as a Captain in the US Army as a family practice physician. I was born and raised in Michigan and plan on returning some day. Football is my number one hobby, others include drawing, sports and history.
5. Are there any particular items you're looking to add to your collection?
I would like a game worn Panther helmet. I would also like to obtain a full set of USFL media guides and pennants. My ultimate goal would be a ticket/stub from every USFL game. I think I'll need a bigger room to display them though...
6. What do you enjoy most about collecting?
The thrill of the hunt and the people I meet looking for memorabilia.
7. Which item or part of your collection is your favorite?
That's hard to say - probably my WFL ball, as I don't know if I'll ever get the opportunity to find one again. My Panther jersey and USFL game ball are more personal favorites.
8. What advice would you give to new collectors?
Collect what you want, this may include setting limits though. Have a budget - it really helps you from getting in trouble (especially with the wife...) - otherwise with everything out there you could spend yourself to the poor house without much trouble.