Houston Gamblers


Years of existence: 1984-1985
Owner: Jerry Argovitz
Stadium: Astrodome (50,495)
Colors: Black, Gambler red, gray, white and yellow gold
Overall Regular Season Record: 23-13 (.639)
Overall Playoff Record: 0-2


Yearly Standings and Average Home Attendances
1984:
13-5 (28,152)
1985:
10-8 (19,120)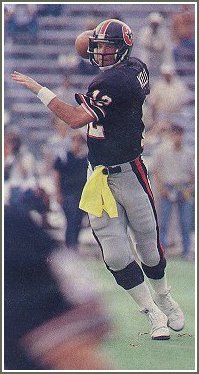 Most football fans had not heard the term Run and Shoot before Jim Kelly and the Houston Gamblers took the field in 1984. Houston rolled up 1,162 points in two seasons, and Kelly was the triggerman. He threw for an unbelievable 5,219 yards and 44 touchdowns in his rookie season, and followed that up with 4,623 yards and 39 TDs in 1985 despite missing several games with an injury.
Kelly wasn't the only offensive weapon the Gamblers had, though. His Mouseketeer receivers included Gerald McNeil, Clarence Verdin, Richard Johnson and Ricky Sanders. With most opposing defenses playing the pass, Todd Fowler and Sam Harrell were dangerous runners out of the Gamblers' backfield. Linebacker Kiki DeAyala, cornerback Will Lewis, defensive end Pete Catan and nose tackle Tony Fitzpatrick were some of the players that anchored a very capable defense.
The Gamblers roared as an expansion team, going 13-5 and winning the Central Division. The Arizona Wranglers ended Houston's dream year by scoring two touchdowns in the final 6:11 and beating the Gamblers, 17-16, in the first round of the playoffs.
The announced move to the fall had a decidedly negative effect on the fans of Houston. The Gamblers' attendance dropped more than 9,000 per game, and Kelly's injury didn't help. Another one-point loss, 22-21, followed in the playoffs, as Jim Miller kicked five field goals for the Birmingham Stallions and Houston kicker Tony Fritsch missed a last-second chance.
Their finest hour:
The Gamblers opened the 1985 season with high hopes to contend for the Western Conference crown, but the Steve Young-led
Los Angeles Express
had other ideas. L.A. jumped out to a commanding 33-13 lead with under ten minutes left in the game, but Kelly brought the Gamblers back on scoring tosses of 52, 40 and 39 yards. Kelly finished the game with a whopping 574 yards passing and five touchdowns. Few members of the intimate crowd at the Los Angeles Coliseum would ever forget Kelly's sterling performance.