Orlando Renegades


Years of existence: 1985
Owner: Donald Dizney
Stadium: Citrus Bowl (50,050)
Colors: Blue, gray, white, red and black
Overall Regular Season Record: 5-13
Overall Playoff Record: 0-0


Yearly Standings and Average Home Attendances
1985:
5-13 (24,136)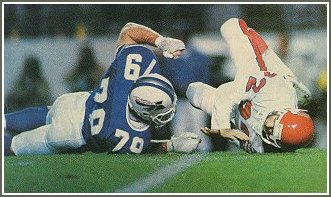 Although the Orlando Renegades went just 5-13 in their only season in the league, this otherwise unremarkable record must count as a success when compared to the lowly 7-29 mark of its predecessor, the Washington Federals. Orlando, in fact, was one of the few league cities that owed something to the announced move to the fall. But for it, the Feds would have been bought by Sherwood Weiser and moved to Miami where they were slated to be coached by Howard Schnellenberger.
Instead, Lee Corso took control of the Renegades and molded them into a competitive squad that went 5-7 over the final 12 weeks. Offensively, QB Reggie Collier ran for 606 yards and 12 touchdowns and passed for 13 more. Runningback Curtis Bledsoe ran for 781 yards, and wideout Joey Walters made 58 catches for 784 yards and five scores. Their defense, however, was the worst in the USFL, giving up a total of 481 points.

Unfortunately, the Renegades only played one season. Prior to the 1986 campaign, Orlando signed Tampa Bay QB John Reaves. Although they lost Bledsoe to the Baltimore Stars, it would have been interesting to see if they could have continued their upward climb.
Their Finest Hour:
The Renegades started the season 0-6, including an overtime loss to the
Jacksonville Bulls
and a blown 17-point lead against the
Denver Gold
in the fifth and sixth games respectively. Finally, Orlando broke into the win column against the
Memphis Showboats
. Jerry Parrish got things rolling for Orlando by running the opening kick back 87 yards for the game's first score. Reggie Collier later added scoring runs of one and two yards to push the Renegades advantage to 21-7. Memphis fought back to get within 21-17, but Collier burned the Showboats again, racing 63 yards for the clinching score on the Renegades' next possession. Final: Orlando 28, Memphis 17.