Save the USFL Tapes! The United States Football League video library is at risk. How can you help? Learn more about our campaign to save USFL video, then check out the USFL Video Library Preservation GoFundMe campaign. Please contact me with any questions.
Join the Save the USFL Video Archive Facebook group for updates.
Looking for news and updates on the new USFL?





Tampa Bay Bandits


Years of existence: 1983-1985
Owner: John Bassett
Stadium: Tampa Stadium (76,891)
Colors: Red, silver, black and white
Overall Regular Season Record: 35-19 (.648)
Overall Playoff Record: 0-2


Yearly Standings and Average Home Attendances
1983:
11-7 (39,896)
1984:
14-4 (46,158)
1985:
10-8 (45,220)
The Tampa Bay Bandits were one of the USFL's most entertaining teams, and the fans of Tampa embraced them. Always among the league leaders in attendance, the Bandits employed a daring, risky offense featuring trick plays and gimmickry. Banditball was a true reflection of coach Steve Spurrier and maverick owner John Bassett. Bassett was the biggest opponent of the league's announced move to the fall, and even threatened to pull Tampa Bay out of the league and start his own circuit. Unfortunately, Bassett died of cancer shortly after the 1985 season concluded.
Poised for a playoff position in 1983, the Bandits fell apart down the stretch, losing four of their last six games to finish one game out of the postseason. Despite the loss of quarterback John Reaves to a wrist injury, Tampa Bay had started strong. Typically, the Bandits offense had no trouble keeping up, but the defense encountered problems. Tampa Bay topped the league with 4,580 yards passing, but their QBs tossed 36 interceptions to 26 touchdowns. Wideout Danny Buggs was second in the league with 76 catches for 1,146 yards, and Eric Truvillion caught 66 passes for 1,080 yards. Defensive tackle Fred Nordgren finished second in the USFL with 15 sacks.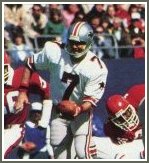 The Bandits fielded perhaps their best team the following year. The offense finished third in the league, and the defense improved to average. Gary Anderson highlighted a retooled running game with 1,008 yards and 19 touchdowns and added 66 catches for 682 yards. Reaves threw for 4,092 yards and 28 scores, and Truvillion had 70 receptions for 1,044 yards while tight end Marvin Harvey caught 70 balls for 938 yards. None of that was enough, though, to overcome five turnovers in their first-round 36-17 playoff loss to the Birmingham Stallions.
Injuries pounded Tampa Bay's roster in 1985, but Spurrier's team continued to fight, this time for a championship for ailing owner Bassett. Anderson ran for 1,207 yard and 16 TDs and topped the squad with 72 catches, and Reaves threw for 4,193 yards and 25 scores. Larry Brodsky caught 69 passes for 1,071 yards. Once again, however, the Bandits came up short in the playoffs, this time by a 30-27 margin to the Oakland Invaders.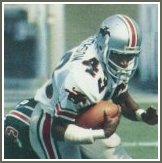 Their Finest Hour: It was week three of the 1984 season, and new in-state rival Jacksonville was at Tampa Stadium for a visit. The Bandits knew they were in for a tough one because the Bulls had already whipped the Washington Federals and nearly knocked off the New Jersey Generals. Jacksonville jumped out on top, 12-0, on a Matt Robinson touchdown pass (kick failed) and Larry Mason scoring run (conversion failed). Gary Anderson's two-yard TD brought Tampa Bay within 12-7 before Alonzo Johnson blocked a Jacksonville put out of the endzone to make it 12-9. Robinson drove the Bulls down and snuck in from the one, but the Bandits scored the next 13 to take their first lead. First, Zenon Andrusyshyn kicked a field goal to close the first half. Then in the third period, Reaves hit Truvillion for a score and Greg Boone rambled nine yards to put Tampa Bay up, 25-18. The Bulls bounced back to tie the game, however, on a Willie McClendon TD scamper early in the fourth. Neither team could break through for the rest of the quarter until the Bandits mounted a late drive. Andrusyshyn nailed a 30-yard field kick with just two seconds left to give the home team a 28-25 victory.