Pittsburgh Maulers


Years of existence: 1984
Owner: Edward J. DeBartolo
Stadium: Three Rivers Stadium (60,043)
Colors: Purple, orange, gray and white
Overall Regular Season Record: 3-15
Overall Playoff Record: 0-0


Yearly Standings and Average Home Attendances
1984:
3-15 (22,858)
The Maulers and coach Joe Pendry struggled through their only year in the league with a 3-15 record. Actually, Pendry didn't even make it through the whole year as Ellis Rainsberger took over the helm midway through the season. Not even the presence of Heisman Trophy winning runningback Mike Rozier could right the Maulers' ship. Pittsburgh only managed victories over the Oakland Invaders and the Washington Federals (twice).
Many of their problems could be blamed on a defense that gave up a league-leading 492 points. Cornerback Jerry Holmes and defensive end Sam Clancy (16 sacks) were two bright spots in a sea of mediocrity. On the offensive end, former Cowboy backup Glen Carano struggled at QB, throwing 19 interceptions to just 13 touchdowns. Wide receiver Greg Anderson caught 63 passes for 994 yards and six TDs.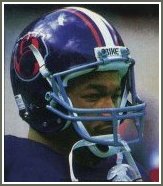 Despite their pathetic performance, the Maulers managed a respectable showing at the gate and even sold out their first home game against the Birmingham Stallions. Many of the fans came to boo and throw things at Stallions and former Steeler QB Cliff Stoudt, but a sell out is a sell out. Edward Debartolo, father of the owner of the 49ers, was forced to pull the plug, though, when the league announced its move to the fall.
Their Finest Hour:
Oh boy, this is a tough one. The Maulers earned their first win in the fourth week of the season with a 16-7 win over the hapless Federals. With the game knotted at 7-7 with less than two minutes remaining, an 18-yard field goal gave Pittsburgh the lead. Half a minute later, safety Jeff Delaney slammed the door on the Feds when he picked off a Reggie Collier pass and returned it 50 yards for the clinching score. Mike Rozier ran for 77 yards and added 87 yards receiving on the day.
Alternate (suggested by William Vogt):
Even though Carano threw for 388 yards and two touchdowns and ran for another in the Maulers' game against the
Breakers
at the Superdome, Pittsburgh still came up short, 27-24. Jackie Flowers caught 10 passes for 135 yards, and Anderson also caught 10 for 128 additional yards. Pittsburgh appeared to have the game in hand, up 24-17 with under two minutes remaining, but a Johnnie Walton TD pass, three and out by the Maulers, and a Tim Mazzetti 41-yard field goal with :12 left sent Pittsburgh into the loss column again.
Alternate (suggested by Brian Mohl):
I think the Maulers' best game was on a Monday night, week 15 vs.
Philadelphia
. Being a Philadelphia fan, I was scared to death when lowly Pittsburgh nearly beat my beloved Stars. I remember thinking, "There is no way this is happening!" The Stars somehow squeaked out that game, but the Maulers demanded respect that night, playing the league's dominant team so tight!