Memphis Showboats


Years of existence: 1984-1985
Owner: William Dunavant, Logan Young, Jr.
Stadium: Liberty Bowl (50,180)
Colors: Scarlet, silver and white
Overall Regular Season Record: 18-18 (.500)
Overall Playoff Record: 1-1


Yearly Standings and Average Home Attendances
1984:
7-11 (27,599)
1985:
11-7 (30,948)

The Memphis Showboats were yet another USFL team that developed a steady and loyal following. Memphis started their first season just 2-7, but coach Pepper Rodger's club finished the season at a 5-4 clip. Mike Kelley and Walter Lewis split time at the quarterback position with Kelley seeing much of the action down the stretch. Derrick Crawford topped the team with 61 catches for 703 yards. Not even Reggie White (12 sacks) could stop the bleeding on defense, thanks in large part to a porous secondary.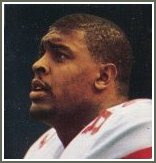 The Showboats came out strong in 1985 with a vastly improved defense (third in the USFL) featuring rookies Leonard Coleman and Mossy Cade. With Kelley and Lewis at the helm, Crawford finished the season with 70 receptions for 1,057 yards, and Greg Moser caught 57 balls for 1,145 yards.. Runningback Tim Spencer ran for 789 yards, and Lewis scrambled for an additional 591. Reggie White paced the team with 11.5 sacks. In the first round of the playoffs, Memphis destroyed the previously high-scoring Denver Gold, 48-7, by scoring 35 points in the second half. Crawford returned a punt for a TD, but the defense stole the show with five sacks, three forced fumbles and three interceptions. The next week, the Showboats fell to the Oakland Invaders, 28-19, in the semifinals.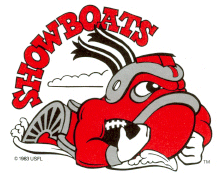 Their Finest Hour: The Showboats went into their first home game of the 1985 season with a 2-0 record to face the defending champion Baltimore Stars, off to a 0-1-1 start and hungry for a win. The Stars roared out to a 13-0 advantage on two David Trout field goals and a Kelvin Bryant touchdown run. Memphis gained only 84 yards in the first half but regrouped at halftime. Lewis led the Boats down the field to begin the second half. He topped off a 68-yard drive with a one-yard TD run. On the Showboats next possession, Lewis again crisply marched his squad down before hitting David Huffman for a two-yard score on a tackle eligible play, and Memphis took its first lead, 14-13. Lewis capped off the Showboats' rally with a 27-yard TD to Crawford early in the fourth. Midway through the quarter, Baltimore scored again on Bryan Thomas's touchdown and lined up for the two-point conversion to tie the game. But Reggie White and the Memphis defense wouldn't let that happen. White tackled Chuck Fusina in the backfield to foil the conversion, and Memphis hung on for a 21-19 win.