Check out the searchable USFL stats from the Stats Crew.
Order the book, The United States Football League, 1982–1986.
Looking for the new USFL, being launched by FOX in 2022?
Boston Next Game »
Tampa Bay Next Game »

Boston 17 at Tampa Bay 21
1983 Week 1 - Sunday, March 6, 1983
Boston Breakers(0-0) at Tampa Bay Bandits(0-0)(-3)
Attendance: 42,437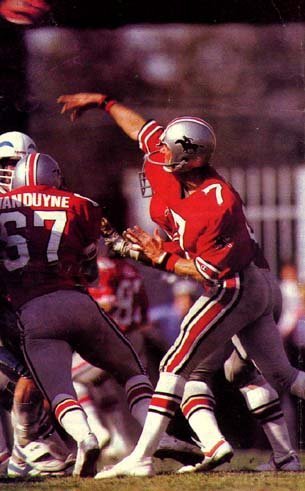 TAMPA (AP) - John Reaves passed for 358 yards and three touchdowns, including a 33-yard game-winning strike to Willie Gillespie, to lead Tampa Bay over Boston.
Reaves, who had a stormy NFL career after leaving the University of Florida as the NCAA's all-time passing leader in 1971, completed 28 of 39 passes and connected with Gillespie with 10:17 remaining.
"This is one of the most hard-earned victories I've ever been associated with," said Tampa Bay Coach Steve Spurrier. "Our receivers and quarterback John Reaves... if you see people catch better than that, let me know so I can go pay them t play for us."

Highlights



Boston Breakers at Tampa Bay Bandits
March 6, 1983
ATT-42,437

Boston.....................................3 7 7 0 - 17
Tampa Bay..................................0 7 7 7 - 21

BOS- Mazzetti 30 FG
TB-  Williams 6 pass from Reaves (Andrusyshyn kick)
BOS- Steels 5 pass from Walton (Mazzetti kick)
TB-  Truvillion 6 pass fromReaves (Andrusyshyn kick)
BOS- T. Davis 1 run (Mazzetti kick)
TB-  Gillespie 33 pass from Reaves (Andrusyshyn kick)

                                  BOS          TB
First downs........................14..........26
Rushes-Yards....................26-70......31-112
Passing Yards.....................155.........358
Return Yards......................114..........30
Passes..........................17-28-1.....28-40-2
Sacks By..........................0-0.........1-8
Punts............................5-42........3-33
Fumbles-Lost......................0-0.........0-0
Penalties-Yards..................4-28........6-44
Possession......................31:02.......28:58

RUSHING: BOS-T. Davis 12-29, Steels 6-23, Crump 7-17, Walton 1-1  TB-R.
Williams 25-97, Bonne 6-15

PASSING: BOS-Walton 17-28-1-163  TB-Reaves 28-39-2-358, R. Williams
0-1-0-0

RECEIVING: BOS-Steels 4-35, Coash 3-33, Franz 3-18, C. Smith
2-48, Crump 2-15, T. Davis 2-13, Taylor 1-1  TB-Buggs 7-112, Truvillion
6-88, R. Williams 6-49, Boone 5-49, Gilbert 2-15, Gillespie 1-33, Cox 1-22

Archived news report
Archived news report
Supplemental information courtesy of Chris Blackburn
Boston Next Game »
Tampa Bay Next Game »