« Previous Game Portland Next Game »
« Previous Game Baltimore Next Game »

Portland 17 at Baltimore 26
1985 Week 9 - Sunday, April 21, 1985
Portland Breakers(3-5) at Baltimore Stars(3-4-1)(-10.5)
Attendance: 14,832
COLLEGE PARK, Md. (AP) -Kelvin Bryant rushed for two touchdowns and 185 yards to lead the Baltimore Stars past the Portland Breakers, 26-17, in United States Football League action Sunday.
It was Bryant's first action since injuring his right hamstring against Birmingham four weeks ago. It was also his season-high rushing effort, coming on 25 carries.
The victory improved the defending champion Stars' record to 4-4-1. Portland, 0-5 on the road, dropped to 3-6.
Baltimore used two big plays to gain a 14-0 first-quarter advantage. On Portland's first possession, Antonio Gibson intercepted Matt Robinson and returned it 50 yards for a touchdown. Four minutes later, Bryant took a lateral and ran 82 yards down the left sideline for the Stars' second touchdown. The play was the longest run from scrimmage in Stars' history.
Portland cut the lead to 14-7 on an 85-yard pass from Robinson to Frank Lockett, but Baltimore got two field goals from David Trout to make It 30-7 at halftime.
Bryant's second touchdown, a three-yard run In the third quarter, made it 26-7.
Portland took advantage of a fumbled punt by Baltimore's Garcia Lane in the fourth quarter on the Stars' 11-yard line. It took Robinson two plays to find David Bayle for a touchdown. Portland added a fourth-quarter field goal by Tim Mazzetti.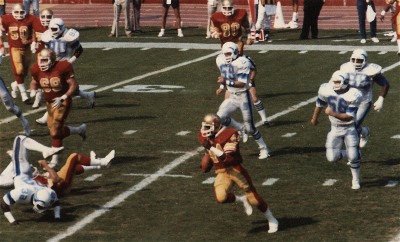 Photo taken by Richie Franklin
Highlights



Highlights



	1	2	3	4	F
POR	0	7	7	3   -   17
BAL    14       6       6       0   -   26

Scoring

BAL:Gibson 50 interception return(Trout kick) - BAL 7, POR 0

BAL:Bryant 82 run(Trout kick) - BAL 14, POR 0

BAL:Trout 42 FG - BAL 17, POR 0

POR:Lockett 85 pass from Robinson(Mazzetti kick) - BAL 17, POR 7

BAL:Trout 22 FG - BAL 20, POR 7

BAL:Bryant 3 run(run failed) - BAL 26, POR 7

POR:Bayle 8 pass from Robinson(Mazzetti kick) - BAL 26, POR 14

POR:Mazzetti 43 FG - BAL 26, POR 17

Box Score

                             POR            BAL
First Downs                   13	     19
Rushes-Yards               18-98         44-252
Passing (A-C-Y-I)    33-13-183-4      17-8-83-1
Sacked-Yards Lost           2-17           3-29
Total Plays-Yards         51-281         61-335
Fumbles-Lost                 0-0            2-2
Penalties-Yards             9-50           4-24
Turnovers                      4              3
Time of Possession         27:54          32:06

Attendance = 14,832 

PORTLAND				     BALTIMORE
Passing     Att Cmp Yds In Td  Rate          Passing     Att Cmp Yds In Td  Rate
Robinson     32  13 212  4  2  44.79         Fusina       17   8 100  1  0  41.30
Woodward      1   0   0  0  0   -- 

Rushing     Att Yds  Ave TD                  Rushing     Att Yds  Ave TD
Williams      7  34  4.9  0		     Bryant       25 185  7.4  2
Robinson      1  29 29.0  0		     Harrison      1  22 22.0  0
Beverly       4  13  3.3  0		     Riley         4  19  4.8  0
Jordan        4  10  2.5  0		     Harvin        6  14  2.3  0
Ricks         1   7  7.0  0		     Thomas        8  12  1.5  0
Jackson       1   5  5.0  0

Receiving   Rec Yds  Ave TD                  Receiving   Rec Yds  Ave TD
Lockett       4 139 34.8  1		     Fitzkee       4  54 13.5  0
A.Allen       2  19  9.5  0		     Riley         2  26 13.0  0
Franz         2  16  8.0  0		     Harvin        1  15 15.0  0
Jackson       1  16 16.0  0		     Dunek         1   5  5.0  0
Hall          3  14  4.7  0
Bayle         1   8  8.0  1                  

Kick Returns   No Yds  Ave TD                Kick Returns   No Yds  Ave TD
Ricks           3  34 11.3  0		     McCants         3  67 22.3  0
Jackson         2  25 12.5  0                

Punt Returns   No Yds  Ave TD                Punt Returns   No Yds  Ave TD
Hall            2  22 11.0  0		     Caver           1  39 39.0  0
					     Lane            2  12  6.0  0                

Kicking          Fg  Lg   Xp  Pts            Kicking          Fg  Lg   Xp  Pts
Mazzetti        1-1  43  2-2   5             Trout           2-3  42  2-2   8            
                miss: --                                     miss: 47

Punting        No Yds  Ave                   Punting        No Yds  Ave
Gossett         5 247 49.4                   Landeta         3 140 46.7

Sacks          Sk Yds                        Sacks          Sk Yds
Brannon         1  10			     Walker          1  13
Neil            1   7                        Johnson         1  10
					     Lush            1   6                    

Interceptions  No Yds  Ave TD                Interceptions  No Yds  Ave TD
Restic          1   8  8.0  0		     Gibson          1  50 50.0  1
					     Hardee          1  18 18.0  0
					     Johnson         1  10 10.0  0
					     Lush            1   0  0.0  0

Archived news report
Archived news report
Archived news report
Supplemental information courtesy of Chris Blackburn
« Previous Game Portland Next Game »
« Previous Game Baltimore Next Game »