Save the USFL Tapes! The United States Football League video library is at risk. How can you help? Learn more about our campaign to save USFL video, then check out the USFL Video Library Preservation GoFundMe campaign. Please contact me with any questions.
Join the Save the USFL Video Archive Facebook group for updates.
Looking for news and updates on the new USFL?
« Previous Game Washington Next Game »
« Previous Game Boston Next Game »

Washington 16 at Boston 19
1983 Week 3 - Sunday, March 20, 1983
Washington Federals(0-2) at Boston Breakers(1-1)(-9)
Attendance: 18,430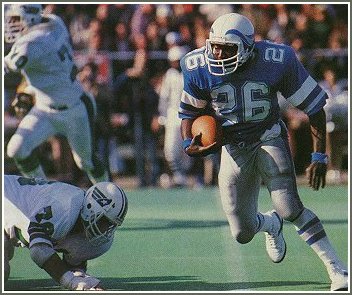 BOSTON (AP) - A tiny home-opening crowd of 18,430 in nearly as tiny Nickerson Field (capacity: 20,535) saw Tim Mazzetti continue his sizzling performance for the Breakers with four field goals. Mazzetti had a meteoric rise and fall with Atlanta in the NFL a few years back. Boston edged winless Washington 19-16 on Mazzetti's 29-yard field goal with 27 seconds left to play.
But the real hero of the game was Boston's nose tackle, Jeff Gaylord. He lined up opposite Federals center Dave Pacella, a replacement for regular long-snapper Bruce Byrom. Two of Pacella's snaps - one on a field-goal attempt, the other on a punt - were bungled, leading to a touchdown and the game-winning field goal by the Breakers.
"I hate to give away my secret," Gaylord said of his play against Pacella, "but right before he snaps the ball he squeezes it to get a good grip. So as he squeezed it the first time his arm went in motion and I slapped his arm and he made a bad snap."
The second time Gaylord swiped, he missed, but "he was shaking. His face was white. He knew just what I was going to do." And Pacella admitted: "I tried to rush the ball a little bit because I was expecting him to reach out for my arm."

1st Half



Highlights



Highlights



Sunday, March 20, 1983 at Nickerson Field
Attendance:� 18,430
---
| | | | | | | |
| --- | --- | --- | --- | --- | --- | --- |
| | 1Q | 2Q | 3Q | 4Q | | Final |
| Washington | 3 | 7 | 6 | 0 | � | 16 |
| BOSTON� | 3 | 6 | 0 | 10 | � | 19 |
�
| | |
| --- | --- |
| WAS | Ariri 38 yrd FG |
| BOS | Mazzetti 20 yd FG |
| BOS | Mazzetti 47 yd FG |
| WAS | Walters 17 yd pass from McQuilken (Ariri kick) |
| BOS | Mazzetti 21 yd FG |
| WAS | Mayberry 1 yd run (kick failed) |
| BOS | Crump 1 yd run (Mazzetti kick) |
| BOS | Mazzetti 29 yd FG |
---
�
| | | |
| --- | --- | --- |
| TEAM STATISTICS | WAS | BOS |
| First Downs............................................ | 18 | 19 |
| Total Net Yards...................................... | 335 | 390 |
| Total Yds Rushing................................... | 27 | 143 |
| Total Yds Passing................................... | 308 | 247 |
| Pass Att - Comp - Int............................. | 47 - 24 - 4 | 41 - 21 - 2 |
| Off Plays - Avg....................................... | 74 - 4.5 | 68 - 5.7 |
| Punts - Avg............................................. | 3 - 33.3 | 5 - 37.6 |
| Returns - Yds.......................................... | 10 - 140 | 9 - 94 |
| Penalties - Yds........................................ | 8 - 65 | 12 - 70 |
| Fumbles - Lost........................................ | 2 - 1 | 2 - 1 |
| Time of Possession.................................. | 31:42 | 28:18 |
---
INDIVIDUAL STATISTICS
�
�
| | | |
| --- | --- | --- |
| Rushing | WAS | Robinson 20-32; Mayberry 6-2; Hardeman 1-(-7) |
| | BOS | Crump 15-130; A. Johnson 1-11; Davis 5-10; D. Johnson 1-4; C. Smith 1-1 |
| Passing | WAS | McQuilken 47-25-4-322 |
| | BOS | Walton 41-21-2-247 |
| Receiving | WAS | Walters 7-112; Robinson 9-98; Homes 5-88; Kinney 1-21; Mayberry 2-6 |
| | BOS | Franz 5-73; A. Johnson 5-55; Crump 5-50; C. Smith 2-46; Strozier 1-12 |
Archived news report
Archived news report
Archived news report
Supplemental information courtesy of Chris Blackburn
« Previous Game Washington Next Game »
« Previous Game Boston Next Game »