We are in the process of preserving USFL video. More than three-and-a-half decades have passed since the USFL last played football, and video of its games is in more danger every day of being lost or destroyed. If you have any video, including partial or complete games, coaches film, highlights, news footage, coaches shows or anything else, please contact us.
Check out the searchable USFL stats from the Stats Crew.
Order the book, The United States Football League, 1982–1986.
New Jersey Next Game »
Los Angeles Next Game »

New Jersey 15 at Los Angeles 20
1983 Week 1 - Sunday, March 6, 1983
New Jersey Generals(0-0) at Los Angeles Express(0-0)(-1)
Attendance: 34,002, TV: ABC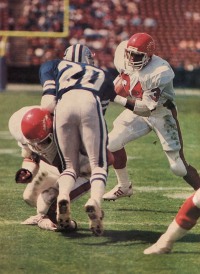 LOS ANGELES (AP) - Herschel who?
"We didn't block as well as we should have for him - we can help him out a lot more than we did today," Chuck Fairbanks, coach of the New Jersey Generals, said of Herschel Walker's less-than-spectacular pro debut Sunday.
The high-priced running back who left the University of Georgia a year early for a $5 million, three-year contract, did score the game's first touchdown. But he gained only 65 yards on 16 carries and by the second quarter, was largely forgotten by the crowd of 34,002 in the Los Angeles Memorial Coliseum.
Instead, all eyes were on Tom Ramsey and Tony Boddie as the Los Angeles Express beat the Generals 20-15 in a season-opening United States Football League game, one of five played Sunday.
"This was real fun," said Ramsey, a former UCLA quarterback who passed for two touchdowns. "I think this is one of the more exciting games I've ever played in. The fan's got their money worth. When the fans are with you, like these fans were, it fires me up."
Ramsey, who played his college ball in the same stadium last year when he was the nation's college passing percentage leader, turned things around when he replaced former National Football Leaguer Mike Rae with the Express trailing 9-6.
Boddie, a 12th-round draft choice out of Montana State, rushed for 77 yards on 13 carries and caught five passes for 49 yards.
Meanwhile, Walker was generally ineffective. Usually a prime pass receiver as well as a runner, the Heisman Trophy winner caught only one pass for three yards.
"It's tougher than I thought it would be," said Walker, who had been on his way to becoming the most productive runner in collegiate history. "A lot of the guys had more speed than I expected to see. And the execution was better; I guess that's the biggest adjustment I have to make."
"Herschel made some mistakes out there, but certainly nothing that can't be corrected," said Fairbanks. "I said before the game that we'd use other back simply because Herschel had been with us only a week."
Fairbanks added, "We didn't help Herschel a lot. In the second half, we were in a catchup situation early, and I felt I had to take him out because of his lack of preparation."

1st Q



Complete Game



Highlights



Highlights



March 6, 1983
Los Angeles Express - 20
New Jersey Generals - 15
at Los Angeles Memorial Coliseum
34,002

New Jersey	9	0	0	6    --	15
Los Angeles	3	10	7	0    --	20

1st Quarter	LA - FG Abbott 23
		NJ - Walker 5 run (kick failed)
		NJ - FG Jacobs 38
2nd Quarter	LA - FG Abbott 27
		LA - Boddie 11 pass from Ramsey (Abbott kick)
3rd Quarter	LA - Hayes 24 pass from Ramsey (Abbott kick)
4th Quarter	NJ - McConnaugh 10 pass from Scott (pass failed)

TEAM STATS:		NEW JERSEY	LOS ANGELES
First Downs		22		16
Rushes-yards		33-147		33-169
Passing yards		219		127
Return yards		0		33
Passes			24-38-3		11-27-1
Sacks by			?		?
Punts			1-34.0		4-31.0
Fumbles-lost		3-2		0-0
Penalties-yards		6-35		4-32
Time of possession		34:09		25:51

INDIVIDUAL STATS:
RUSHING = New Jersey: Walker 16-65, Sullivan 7-35, Coffey 6-20, Slawson 1-6, Carthon 3-21.
	Los Angeles: Boddie 13-77, Harrington 8-30, Rae 3-22, Haslip 2-15, Ramsey 3-20, 
	Davis 3-10, Williams 1-(-5).
PASSING = New Jersey: Scott 24-38-251-3.  Los Angeles: Rae 3-7-22-0, Ramsey 8-20-117-1.
RECEIVING = New Jersey: Hicks 5-69, Coffey 4-18, Friede 2-17, Walker 1-3, Sullivan 2-13, 
	Slawson 2-34, Brodsky 3-29, McConnaughey 4-61, Bowers 1-7.  Los Angeles: 
	Hayes 4-60, Sherrod 1-10, Williams 1-20, Boddie 5-49.
MISSED FIELD GOALS = none

Archived news report
Archived news report
Photo
Supplemental information courtesy of Chris Blackburn
New Jersey Next Game »
Los Angeles Next Game »