Check out the searchable USFL stats from the Stats Crew.
Order the book, The United States Football League, 1982–1986.
Philadelphia 13 at Denver 7
1983 Week 1 - Sunday, March 6, 1983
Attendance: 45,102, TV: ABC


Complete game.

(AP) - Chuck Fusina ran for a touchdown, David Trout kicked a pair of field goals - one from 50 yards - and the Stars held off a Gold rally in the fourth quarter before 45,102 at Denver.

Denver's last chance to win the game failed with 22 seconds left when substitute Gold quarterback Ken Johnson's pass to fullback Larry Canada in the end zone fell incomplete on fourth down from the Philadelphia two.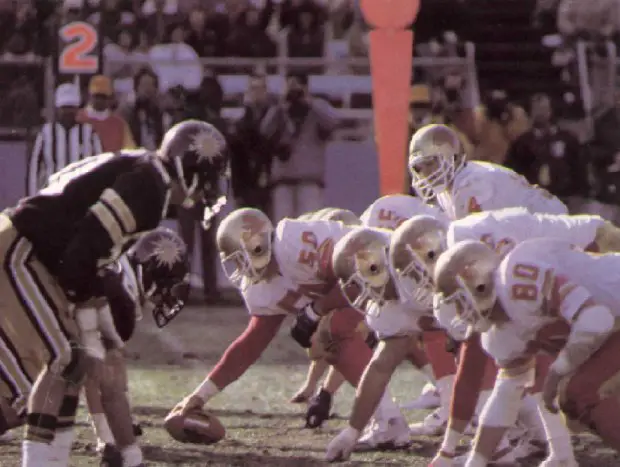 MARCH 6 
SCORE BY PERIODS 
Philadelphia  .....................  7   3   3   0--13 
Denver  ...........................  0   0   0   7-- 7

SCORING 
Philadelphia--Fusina 2 run (Trout kick). 

Philadelphia--Field goal Trout 50. 

Philadelphia--Field goal Trout 29. 

Denver--Johnson 1 run (Speelman kick). 

TEAM STATISTICS 
                                      Philadelphia     Denver 
First downs  ...........................     13          15 
Rushes-Yards  .......................... 34-103      31-103 
Passing yards  .........................    129         112 
Sacked-Yards lost  .....................    1-8        2-24 
Return yards  ..........................     64         104 
Passes  ................................  16-29-0     17-33-4 
Punts  .................................   6-44.8      5-38.6 
Fumbles-Lost  ..........................    3-1         4-2 
Penalties-Yards  .......................   9-49        4-20 
Time of possession  ....................  29:44       30:16 
Attendance--45,102. 


INDIVIDUAL STATISTICS 
Rushing--Philadelphia, Bryant 18-51, Harvin 3-17, 
Russell 4-23, Fusina 7-25, Krohn 2-minus 13; Denver, 
Matthews 3-minus 1, Sydney 9-50, Canada 7-20, T. 
Miller 7-25, Ballage 1-0, Knapple 1-minus 3, Ford 1- 
6, Johnson 2-6. 

Passing--Philadelphia, Fusina 16-29-0 -137; Den- 
ver, Knapple 11-23-4--70, Johnson 6-10-0--66. 

Receiving--Philadelphia, Riley 2-13, Bryant 6-34, 
Donovan 2-20, Fitzkee 3-46, Russell 1-9, Harvin 1-5, 
Folsom 1-10; Denver, Niziolek 3-34, Canada 5-27, 
Phea 3-19, Sydney 2-5, T. Miller 1-8, James 2-38, 
Matthews 1-5. 

Kickoff Returns--Philadelphia, Harvin 1-22; Den- 
ver, Ballage 2-51, James 1-21. 

Punt Returns--Philadelphia, Woerner 3-25; Denver, 
Martin 3-32 
Interceptions--Philadelphia, Woerner 1-2, Jackson 
1-0, Howard 1-0, Brooks 1-15. 

Punting--Philadelphia, Landeta 4-44.8; Denver, 
Gortz 5- 38.6. 

Field Goals-Philadelphia, Trout 2-3; Denver, none 
attempted. 

Sacks--Philadelphu, Cooper 1/2-5 1/2, Mills l/2-5 1/2, 
Howard 1-13; Denver, Gerken 1-8