We are in the process of preserving USFL video. More than three-and-a-half decades have passed since the USFL last played football, and video of its games is in more danger every day of being lost or destroyed. If you have any video, including partial or complete games, coaches film, highlights, news footage, coaches shows or anything else, please contact us.
Check out the searchable USFL stats from the Stats Crew.
Order the book, The United States Football League, 1982–1986.


Three Rivers Stadium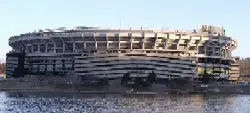 Positioned at the confluence of the Monongahela and Allegheny rivers where they form the Ohio River, Three Rivers Stadium was to be a crowning jewel of Pittsburgh when it was opened in 1970.  As the home for baseball's Pirates and the NFL's Steelers, the stadium reflected the apex of the "cookie cutter" era:  a period in which cities, seeking to save money in constructing sports facilities, opted to build multi-sport facilities which could accommodate both baseball and football, and proceeded to build facilities well-suited to neither sport.
Three Rivers saw several moments of glory such as the Pirates World Series wins of 1971 and 1979 and the Steelers four NFL titles during the 1970's, and it's a good thing, too, as the people of Pittsburgh quickly fell out of love with the place that was referred to as "The Atrocity by the Monstrosity" (the monstrosity being the Ohio River).  By the time the Maulers played their only USFL season there in 1984, Three Rivers was seen as an antiquated eyesore with inadequate parking and unfriendly staff. Steelers games drew well, as did Pirates home openers and playoff games, which regularly sold out the stadium's seating capacity, which varied from 49,000 to 57,000 depending on configuration and era.
After nearly three decades and lots of political jostling, both the Pirates and Steelers gained new facilities, and the decision was made to bring Three Rivers down via implosion.  Three Rivers Stadium was imploded in 2001.

Back to USFL Stadia