Save the USFL Tapes! The United States Football League video library is at risk. How can you help? Learn more about our campaign to save USFL video, then check out the USFL Video Library Preservation GoFundMe campaign. Please contact me with any questions.
Join the Save the USFL Video Archive Facebook group for updates.
Looking for news and updates on the new USFL?


Sun Devil Stadium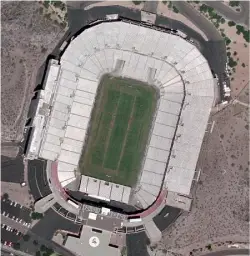 Constructed in 1958 as the home of Arizona State University's Sun Devils, Sun Devil Stadium was home to the Arizona Wranglers in 1983 and 1984, and the Arizona Outlaws in 1985.
With a seating capacity of 70,491 at the time, Sun Devil Stadium was expanded to seat up to 73,379 fans.  In 1988 the St. Louis Cardinals relocated to Phoenix, calling Sun Devil Stadium their home until constructing a new facility in nearby Glendale in 2006.  Sun Devil Stadium played host to the pro football world as the site of Super Bowl XXX, and also hosted the annual Fiesta Bowl game from 1971 to 2006. 

Back to USFL Stadia