Soldier Field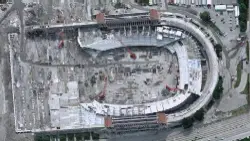 Completed in 1924 and originally named "Municipal Grant Park Stadium," Chicago's Soldier Field for two years was the home of the USFL's Chicago Blitz, drawing one of the lowest average attendances league-wide in 1984 in one of the league's largest cities.
Best known today as the long-time home of the NFL's Chicago Bears, Soldier Field didn't serve as the NFL team's home until 1971 - over half a century into the team's existence.  The facility hosted a number of football events over the years, though, and the the first pro team to call Soldier Field home was the All American Football Conference's Chicago Rockets in 1946.  They would be followed by the NFL's Chicago Cardinals in their final season in the city (1959), the WFL's Fire (1974) and Winds (1975), the Blitz in 1983 and 1984, and the XFL's Chicago Enforcers in 2001.
In 2001 the Chicago Park District, which owns and maintains the stadium, announced plans to give Soldier Field a complete overhaul, spending 18 months and nearly $365 million on the stadium which had cost $10 million to build initially. The old facility would see extensive renovations to the interior to give it the appearance of a new, state of the art, 21st century stadium.  The renovations proved so drastic that they led to Soldier Field being de-listed as a National Historic Landmark.
What Chicagoans call "new" Soldier Field has a seating capacity of roughly 63,000 and serves not only the Chicago Bears but also concert promoters, non-profit organizations, and others who look to gather large groups of Chicagoans.

Back to USFL Stadia