Save the USFL Tapes! The United States Football League video library is at risk. How can you help? Learn more about our campaign to save USFL video, then check out the USFL Video Library Preservation GoFundMe campaign. Please contact me with any questions.
Join the Save the USFL Video Archive Facebook group for updates.
Looking for news and updates on the new USFL?


Skelly Stadium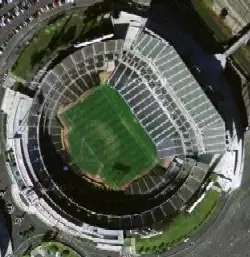 Constructed in 1930 with 14,500 seats, Skelly Field was built as the home of the University of Tulsa's Golden Hurricane football club.  In 1938 the university traded the facility to Tulsa Public Schools in exchange for an open lot, but leased the field back from the school system.  In 1947 Skelly Field was rechristened Skelly Stadium.
Despite Tulsa not being known as a hotbed of pro football, the USFL's Oklahoma Outlaws weren't the first pro team to play at Skelly. That distinction belonged to the Houston Oilers and Dallas Texans, who met in an AFL pre-season contest in August 1960.  In 1965 Skelly Stadium was enlarged to increase its seating capacity to over 40,000, and three years later ownership of the facility was returned to the University of Tulsa.
Having been rebuffed by the city of San Diego in their efforts to place their USFL franchise there for 1984, William Tathams Sr. and Jr. instead placed the team in Tulsa and Skelly - and drew an average attendance that was 7,000 less than UT's had been in 1982. The team struggled with the weather, enduring rain and even ice throughout it home schedule. Needless to say, the Outlaws weren't around long, and in 1985 the team moved to Phoenix.
Skelly Stadium continued to serve as home for the Golden Hurricanes, albeit with a slightly reduced seating capacity of 35,542.

Back to USFL Stadia