We are in the process of preserving USFL video. More than three-and-a-half decades have passed since the USFL last played football, and video of its games is in more danger every day of being lost or destroyed. If you have any video, including partial or complete games, coaches film, highlights, news footage, coaches shows or anything else, please contact us.
Check out the searchable USFL stats from the Stats Crew.
Order the book, The United States Football League, 1982–1986.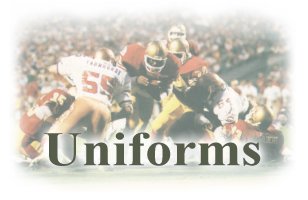 By popular request, we present the road uniforms. We now have all the regular uniforms as well as the major variations. If you know of other versions or corrections and have clear pictures that show the differences, please contact me.
Also available: USFL Home Uniforms