Save the USFL Tapes! The United States Football League video library is at risk. How can you help? Learn more about our campaign to save USFL video, then check out the USFL Video Library Preservation GoFundMe campaign. Please contact me with any questions.
Join the Save the USFL Video Archive Facebook group for updates.
Looking for news and updates on the new USFL?


RFK Stadium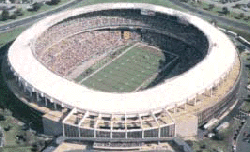 Built in 1961 and often cited as the first stadium of the "cookie cutter" era, D.C. Stadium was the home of both baseball's Washington Senators and the NFL's Washington Redskins.  Built at a cost of $20 million, the stadium was renamed to Robert F. Kennedy Memorial Stadium in 1969 to honor Senator Robert F. Kennedy, who had been slain the previous June.
The Senators moved out after 1971, and the arrival of the Washington Federals for 1983 seemed to be an opportunity to fill the stadium's nearly 55,000 seats during spring months when it otherwise sat empty.  But the Federals' arrived just after the Redskins won their first NFL championship in four decades, stirring up passion for the NFL club.  A poor Federals team quickly became buried in Washington.
After the Federals headed south to Orlando for 1985, RFK continued to serve as home of the Redskins until the team built a new stadium in 1997.  In 2005 the Montreal Expos baseball team relocated to the nation's capital and RFK.  The Washington Nationals played there for three seasons, and the stadium also hosted D.C. United of Major League Soccer.

Back to USFL Stadia