A-F- Gary Anderson to Chuck Fusina
G-N- David Greenwood to Rick Neuheisel
Bart Oates, C; Stars- the force up the middle who made sure Kelvin Bryant had plenty of room to run...named to Sporting News All-Star Team in 1983 and USFL All-League Team in 1984...played on same team as brother Brad in 1983 and 1984...ran the ball once for five yards in 1984...had long productive career with the New York Giants beginning in 1985.
Gary Plummer, LB; Invaders- Invaders career leader in tackles, including a whopping 162 in 1983...played with Invaders all three seasons...signed with the San Diego Chargers upon USFL's demise...won a Super Bowl ring with the San Francisco 49ers in 1994...played in 134 straight NFL games.
John Reaves, QB; Bandits- after troubled NFL career, turned it and his life around in Tampa directing Coach Steve Spurrier's Banditball offense...a broken wrist limited him to eight games in 1983 when he completed 139 of 259 tosses for 1,726 yards, nine scores and 16 interceptions...broke out in 1984 by connecting on 313 out of 544 throws for 4,092 yards, 28 TDs and 16 interceptions...in 1985, went 314-561 passing for 4,193 yards, 25 touchdowns and 29 interceptions.
Dan Ross, TE; Breakers- a Pro Bowler with the Cincinnati Bengals, he signed a future contract with the Breakers so he could play in Boston, but by the time he joined them they had moved to New Orleans...in 1984, caught 65 passes for 833 yards and two scores and was named to the Sporting News All-Star Team...caught 41 balls for 522 yards and 5 TDs in Portland...caught on later with the Bengals, Seattle Seahawks and Green Bay Packers.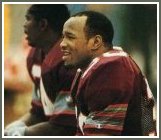 Mike Rozier, RB; Maulers, Bulls- second Heisman Trophy winner to sign with the USFL...had a rough rookie year with the terrible Maulers, running for 792 yards on 223 attempts with 3 Tds...after nearly jumping to the other league following his season in Pittsburgh, joined Bulls and fellow Heisman winner Archie Griffin in Jacksonville backfield...bounced back to run 320 times for 1,361 yards and 12 Tds for Bulls...later played for NFL's Houston Oilers and Atlanta Falcons...racked up 4,462 yards in seven NFL seasons.
Brian Sipe, QB; Generals, Bulls- jumped from the NFL's Cleveland Browns following 1983 season...NFL MVP in 1980...connected on 192 of 324 passes for 2,540 yards, 17 touchdowns and 15 interceptions in first USFL season...injuries limited him to just 55-89 passing for 685 yards, four scores and two picks with the Bulls in 1985.
Jim Smith, WR; Stallions- longtime Steeler preceded Cliff Stoudt's exodus to the Stallions by a year...made 51 catches for 756 yards and 3 scores in 1983...caught 89 balls for league-high 1,481 yards and 8 touchdowns in 1984...third in USFL with 87 catches for 1,322 yards and a whopping 20 touchdowns in 1985...ended career with the Los Angeles Raider in 1985.
Tim Spencer, RB; Blitz, Wranglers, Showboats- a first round draft selection, teamed with Kevin Long as both runners gained over 1,000 yards in 1983 and 1984...rushed for 1,157 yards on 300 attempts with six TDs in 1983...added 1,212 yards on 227 runs with 17 scores in Arizona the following year...ran 198 times for 789 yards and 3 touchdowns for Memphis in 1985...played until 1990 with the San Diego Chargers.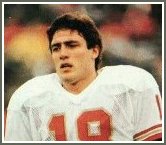 Cliff Stoudt, QB; Stallions- after a subpar career as a backup with the Pittsburgh Steelers, he prospered in the Stallions offense...completed 212 of 366 throws for 3,121 yards, 26 touchdowns and 7 interceptions in inaugural USFL season...also scrambled 68 times for 440 yards and nine scores...had another solid year in 1985, connecting on 266 of 444 passes for 3,358 yards, 34 TDs and 19 picks...almost single-handedly sold out the Maulers first home game with his return to Pittsburgh as many fans came solely to boo and throw things at Stoudt...played with St. Louis/Phoenix Cardinals, Miami Dolphins and Dallas Cowboys.
Stan Talley, P; Invaders- one of the league's most consistent punters...topped league with 44.0 yard average in 1983 and 44.3 yard average in 1985...averaged 41.5 yards per kick in 1984...also punted with the Los Angeles Raiders in 1987.
JoJo Townsell, WR; Express- a steady receiver, he spent all three seasons with the unsteady Express...signed late in 1983, he played in 5 games, catching 21 passes for 326 yards and 3 scores...made 58 catches for 889 yards and 7 TDs in 1984...caught 47 balls for 777 yards and 6 touchdowns in 1985...later played for New York Jets...played from 1985-1990 with the New York Jets.
David Trout, K; Stars- a vital part of the Stars' championship teams...hit on 28 of 42 field goal attempts and scored a league-high 121 points in 1983...went 26-40 for 127 points the following season...was 22-34 for 105 points in 1985...with Pittsbugh Steelers for part of 1987 season.
Eric Truvillion, WR; Bandits- E.T. was one of the circuit's most explosive receivers...caught 66 passes for 1,080 yards and 15 touchdowns in his rookie campaign...made 70 grabs for 1,044 yards and nine scores despite missing 3 games in 1984...dipped to 31 catches for 478 yards and 6 TDs in 1985...caught on with Detroit Lions for 1987 campaign.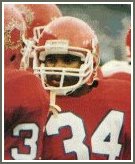 Herschel Walker, RB; Generals- the league's first big-name signee, the 1982 Heisman Trophy winner out of Georgia chose the Generals as his first pro team...left school a year early, something unheard of at the time...despite constant, intense scrutiny and criticism, he conducted himself with class throughout his stay in the league...ran for league-high 1,812 yards on 412 carries with 17 TDs in rookie year...in 1984, rushed for 1,339 yards on 293 attempts and 16 touchdowns...saved the best for last, gaining a pro football record 2,411 yards on 438 carries with 21 scores in 1985...became a solid receiver out of the backfield...named to Sporting News and USFL All-League Teams in 1983 and 1985 and named MVP by both in 1985...has since played for Dallas Cowboys, Minnesota Vikings, Philadelphia Eagles and New York Giants.
Joey Walters, WR; Federals, Renegades- the only consistent offensive force the Federals had, he came to the league from Saskatchewan of the CFL...made 63 catches for 959 yards and 6 TDs in 1983...made 98 receptions for 1,410 yards and 13 scores the following year...with Orlando in 1985, grabbed 58 balls for 784 yards and 5 touchdowns...with the Houston Oilers in 1987.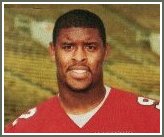 Reggie White, DE/DT; Showboats- the Minister of Defense spent a stellar collegiate career at the University of Tennessee...in 1984, recorded 12 sacks for 84 yards in losses...made 11.5 sacks for 93.5 yards in losses in 1985...large part of Philadelphia Eagles' dominating defense from 1985-92...stunned most observers when he signed with the Green Bay Packers for the 1993 campaign...finally won his first championship with Packers in Super Bowl XXXI...set Super Bowl record with three sacks against the New England Patriots.
Doug Williams, QB; Outlaws- left the NFL's Tampa Bay Buccaneers following the 1983 season to join the expansion Outlaws...only QB to lead the Bucs to the playoffs...1984 passing: 261-528 for 3,084 yards, 15 TDs, 21 INTs...1985 passing: 271-509 for 3,673 yards, 21 TDs, 17 INTs...played for Washington Redskins from 1986-89...earned MVP honors in Super Bowl XXII where he led the Redskins to a 42-10 triumph...was once asked how long he had been a black quarterback.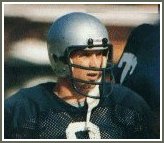 Steve Young, QB; Express- the USFL's $40 million man joined the Express in 1984 after a stellar career at BYU...didn't play until week six, but led L.A. to an 8-5 mark and a berth in the Western Conference final while he was in the lineup...1984 stats: 179-310 passing for 2,361 yards, 10 TDs, 9 INTs; ran 79 times for 515 yards and 7 TDs...suffered through a long year in 1985 with underachieving squad...1985 stats: 137-250 passing for 1,741 yards, 6 TDs, 13 INTs; ran 56 times for 368 yards and 2 TDs...spent one game at RB in 1985...spent two seasons with the Tampa Bay Buccaneers before joining the San Francisco 49ers and Joe Montana's understudy...started sparingly while Montana was there, but took over starting position for good in 1993...led 49ers to win in Super Bowl XXIX and was named game's MVP with six TD tosses.
Gary Zimmerman, T/G; Express- joined Express as part of young offensive line that protected Steve Young...named to Sporting News All-Star Team in 1984 and 1985...credited with a kickoff return in 1984, a rarity for an offensive lineman...became a Pro Bowler with the Minnesota Vikings and Denver Broncos.