Save the USFL Tapes! The United States Football League video library is at risk. How can you help? Learn more about our campaign to save USFL video, then check out the USFL Video Library Preservation GoFundMe campaign. Please contact me with any questions.
Join the Save the USFL Video Archive Facebook group for updates.
Looking for news and updates on the new USFL?



A-F- Gary Anderson to Chuck Fusina
O-Z- Bart Oates to Gary Zimmerman
David Greenwood, S/DB/P; Panthers, Invaders- a first round draft selection out of Wisconsin...picked off 2 passes in 1983 and 4 in 1984, including game-clincher versus Arizona...named as top safety on Sporting News All-USFL team in 1983...intercepted 3 passes for Invaders in 1985...also played for Tampa Bay Buccaneers, Green Bay Packers and Los Angeles Raiders.

Bobby Hebert, QB; Panthers, Invaders- rebounded from slow start to lead Panthers to 1983 title...1983 passing: 257-451 for 3,568 yards, 27 scores, 17 INTs...in 1983 title game completed 20-39 throws for 314 yards, 3 TDs and 1 interception and was voted game MVP...was named USFL's Outstanding Quarterback and the Sporting News Player of the Year...named first team All-League selection by both organizations...hurt by loss of Anthony Carter for much of 1984 season...still was 272-500 for 3,758 yards, 24 TDs, 22 INTs...moved to Invaders in 1985 when the teams merged...went 244-456 passing for 3,811 yards, 30 TDs, 19 INTs in leading Oakland to title game...played 7 years with the New Orleans Saints under former nemesis Jim Mora...became first QB to lead the Saints to the playoffs...also played for Atlanta Falcons.
Jerry Holmes, CB; Maulers, Generals- jumped to Maulers from New York Jets...signed future contract with Pittsburgh prior to 1983 NFL campaign...intercepted 2 passes for Maulers in 1984 and 3 for Generals in 1985...went back to play two seasons with the Jets...also played with Detroit Lions and Green Bay Packers.
Kent Hull, C; Generals- helped open the holes that Walker and Carthon blasted though...anchored the Generals offensive line for all three seasons...named to USFL and Sporting News All-League Teams in 1985...enjoyed stellar career protecting Jim Kelly with the Buffalo Bills.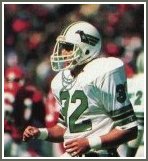 Craig James, RB; Federals- injuries hampered his USFL career...ran for 823 yards on 202 carries with 4 touchdowns in 14 games in 1983...also caught 40 balls for 342 yards and a pair of scores...had only 16 carries for 61 yards before his 1984 season came to an end on an injury...signed with New England Patriots and helped team to Super Bowl XX berth...played 5 years with the Pats, gaining 2,479 yards on 589 carries with 11 scores...also caught 89 passes for 819 yards and 2 touchdowns...totalled 1,227 yards rushing in 1985...ran for 105 yards in Pats win over Miami Dolphins in 1985 AFC Championship...became college football studio cohost with ESPN and then ABC.
Bill Johnson, RB; Gold- a 17th round draft selection in 1984, he ran for just 132 yards on 36 attempts in his rookie year with the Gold...benefitted from the switch to the run and shoot in 1985...finished third in the league with 1,261 yards on 212 carries (6.0 yards per carry) and 15 scores...active with Cincinnati Bengals from 1985-1987.
Richard Johnson, WR; Gamblers- tops among the Gamblers' Mousketeer receiving corps...set pro football record (since broken) with 115 catches for 1,455 yards and 15 TDs in 1984...paced league again in 1985 with 103 receptions for 1,384 yards and 14 scores...in 1987, played with the Washington Redskins...finished career with Detroit Lions (1989-1990)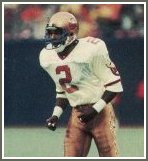 Trumaine Johnson, WR; Blitz, Wranglers- one of the league's most exciting early signees, he was named to the Sporting News All-Star Team in 1983 and 1984...his 81 catches for 1,322 yards led the USFL in 1983...also pulled down 10 touchdowns...caught 90 balls for 1,268 yards and 13 scores...sat out entire 1985 season in a contract squabble with the Arizona Outlaws...played with San Diego Chargers (1985-1986) and Buffalo Bills (1987-1988).
Vaughan Johnson, LB; Bulls- a tough linebacker, he helped solidify the Bulls defense...made one sack and one interception in 1984 and recovered a blocked kick in the endzone for a touchdown...recorded three sacks in 1985 with one fumble recovery...became a Pro Bowl player with Jim Mora's New Orleans Saints.
Buford Jordan, RB; Breakers- a tough, durable back, he ran for 1,276 yards and 8 TDs in his rookie year with the club in 1984 despite the celebrated presence of Marcus Dupree...became a fan favorite in Portland after Dupree's knee injury by rushing for 817 yards on 165 carries with five scores...went back to New Orleans to play with the Saints from 1986-1992.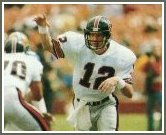 Jim Kelly, QB; Gamblers- was in Buffalo Bills offices ready to sign with the NFL team when a message from the Gamblers got through asking him to hold off...burst on the pro football scene in 1984 with a sensational rookie year for the Gamblers...1984 passing: 370-587 for 5, 219 yards, 44 TDs, 26 INTs and also ran 85 times for 493 yards and 5 TDs...injuries shelved him for several games in 1985...still finished 360-567 passing for 4,623 yards, 39 TDs, 19 INTs...appeared on cover of Sports Illustrated in Generals uniform in 1986...finally signed with Buffalo Bills in 1986...Bills starter and multiple time Pro Bowler from 1986-1996...led team to four Super Bowl appearances.
Sean Landeta, P; Stars- acknowledged as the USFL's best punter, went on to a long NFL career...averaged 41.9 yards per kick in 1983, 41.0 in 1984 and 41.8 in 1985...punted for the New York Giants for nine years before moving on to the Los Angeles/St. Louis Rams.
Kit Lathrop, DE, DT; Blitz, Wranglers, Outlaws- played with Denver Broncos and Green Bay Packers before he became a perennial all-USFL selection...made Sporting News All-Star Team and USFL All-League Team in 1983 and 1984...had 8 sacks and one safety in 1983, 13 sacks in 1984 and eight sacks in 1985...later signed on with Kansas City Chiefs and Washington Redskins.
Kevin Long, RB; Blitz, Wranglers, Outlaws- turned career around by signing with Blitz in 1983...ran for 1,022 yards on 262 carries with 12 touchdowns for 83 Blitz...followed team to Arizona where he ran 225 times for 1,010 yards and 15 scores...dipped to just 95 carries for 284 yards and four TDs with 1985 Outlaws...with New York Jets from 1977 to 1981.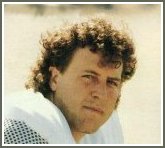 Marcus Marek, LB; Breakers- one of the USFL's most pleasant defensive surprises in 1983...always seemed to be around the ball...made USFL All-League Team in 1983 after being drafted in ninth round by Breakers...recovered three fumbles including one for a score and made four interceptions in 1983...recovered six fumbles and picked off a pass in 1984...recovered one fumble and made one interception in 1985.
Keith Millard, DE; Bulls- helped the Bulls improve dramatically on defense in 1985...led squad with 12 sacks for 86.5 yards in losses...later became NFL Defensive Player of the Year with the Minnesota Vikings...after a knee injury wiped out his 1991 season, caught on with Seattle Seahawks, Green Bay Packers and Philadelphia Eagles.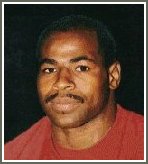 Sam Mills, LB; Stars- labelled as too small to play professional linebacker, he was cut by the Cleveland Browns and Toronto Argonauts before landing on his feet in Philadelphia...anchored coach Jim Mora's Doghouse Defense all three seasons...interception totals: 1983- 3, 1984- 3, 1985- 3...known as one of the league's hardest hitters, was credited with 3.5 sacks in 1983, 5 in 1984 and 5.5 in 1985...earned two nicknames: one for his size (Field Mouse) and one for his play (Slammin' Sam)...one of the primary examples of great players who sometimes slip through the NFL's cracks...went on to stellar career in NFL with New Orleans Saints and Carolina Panthers...played under Stars coach Jim Mora at New Orleans.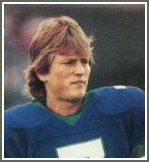 Rick Neuheisel, QB; Gunslingers- was the winner of the MVP award in the 1983 Rose Bowl where he led UCLA to a victory...he completed 211 of 383 throws for 2,542 yards, 14 touchdowns and 15 interceptions in rookie year with the 84 Gunslingers...connected on 239 of 421 tosses for 3,068 yards, 18 scores and 25 picks in 1985... signed on with Arizona Outlaws where he would have been Doug Williams' backup...after a stint with the San Diego Chargers' strike team (40-59 for 367 yards with a TD and int), took up coaching...installed as head coach at the University of Colorado in 1995.