Save the USFL Tapes! The United States Football League video library is at risk. How can you help? Learn more about our campaign to save USFL video, then check out the USFL Video Library Preservation GoFundMe campaign. Please contact me with any questions.
Join the Save the USFL Video Archive Facebook group for updates.
Looking for news and updates on the new USFL?


Nickerson Field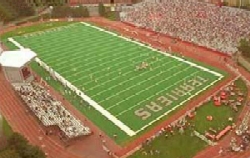 Built for pro baseball in 1915 as a home for the Boston Braves of the National League, Braves Field hosted the Major League team through the 1952 season as well as various professional football teams as late as 1948.
Following the Braves move to Milwaukee, Boston University purchased the facility.  In 1955 it was largely demolished, though large portions, including the entry gate and right-field pavilion remained as part of a new facility, renamed Nickerson Field for William E. Nickerson, a member of BU's Board of Trustees.
The home of the Boston Patriots during their first four seasons, the site was seen as inadequate in the early 1960s, let alone by the time the USFL and the Boston Breakers began using it in 1983.  Boston University's modifications to the facility had reduced seating capacity to just over 20,000, and Breakers partners George Matthews and Randy Vataha's decision to sell the team after the 1983 season was largely based on their inability to secure use of a bigger, better facility for home games.
Following the Breakers' departure, the facility became even smaller, as further modifications later reduced seating capacity to just over 9,000.

Back to USFL Stadia