Save the USFL Tapes! The United States Football League video library is at risk. How can you help? Learn more about our campaign to save USFL video, then check out the USFL Video Library Preservation GoFundMe campaign. Please contact me with any questions.
Join the Save the USFL Video Archive Facebook group for updates.
Clinton Manges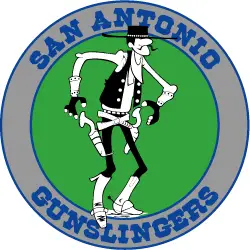 Prior to its 1984 expansion, the USFL commissioned a survey of 17 potential expansion locations, requesting recommendations on the viability of each to support a USFL franchise. Cities such as Pittsburgh, Minneapolis, Seattle and Houston were seen as potentially viable locations for USFL teams. San Antonio, well, wasn't.
Clinton Manges would not be denied, however, laying on a heavy-duty sales pitch to existing owners considering new franchise locations. In the end the owners, seeing Manges' net worth and wanting to expand to 18 teams for 1984 admitted the San Antonio Gunslingers as the USFL's 17th franchise. Manges had won $400 milliion from Mobil OilThe politically-connected and controversial Manges had made his fortune in the oil industry and had also amassed many enemies along the way.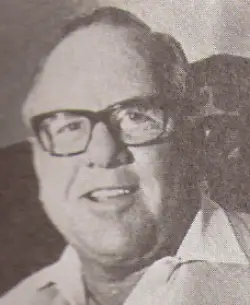 Manges ran the Gunslingers on a shoe-string in every sense of the word: from playing games at the not-so comfy Alamo Stadium (not to be confused with the Alamo Bowl, which hadn't been built yet), to having the team's administrative offices in a double-wide trailer outside the stadium, the Gunslingers were far from a first-class operation. This would be reflected in the team's performance on the field as well, as a 7-11-0 debut season in 1984 would degrade to 5-13-0 in 1985, with only the league-operated L.A. Express preventing the 'Slingers from finishing 7th in a 7-team Western Conference.
Out of cash, Manges stopped paying the Gunslingers bills with several weeks remaining in the 1985 season. Members of his office staff reportedly avoiding players looking for their paychecks by crawling out the windows of the double-wide "offices" of the team. Having seen enough, in July 1985 USFL Commissioner Harry Usher ordered Manges to make restitution in full for all outstanding team debts. When Manges didn't pony up the dough after 15 days, the Gunslingers became the only USFL franchise to be revoked.
By 1987 Manges was completely tapped out. He declared bankruptcy and armed federal marshals in Blackhawk helicoptors seized his 100-acre ranch, dubbed the Majic Kingdom. Manges ended up serving two years in prison for mail fraud. He died in 2010 at the age of 87. "My father was a perfect example of how far being an ornery old bastard can take you," Manges' daughter MaLou said in a San Antonio Express-News obituary.