Los Angeles Memorial Coliseum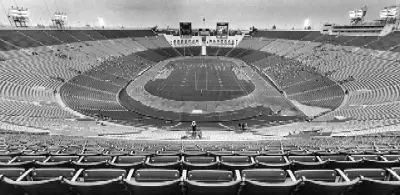 The Los Angeles Memorial Coliseum, longtime home of the University of Southern California (USC) Trojans football team, is a National Historic Landmark, earning the distinction in 1984. The facility etched itself into the history books as the chief venue of both the 1932 and 1984 Summer Olympic Games.  But the stadium's sheer size has made it a challenging venue for professional football games.  Nevertheless, several groups wishing to crack the tempting L.A. football market have used the Coliseum as their home.
At a seating capacity of over 92,000 (and over 100,000 during its USFL days), even a respectable crowd of 50,000 tends to appear small. While the site of what was at one time the most-attended Super Bowl in the history of the NFL (Super Bowl XI), it is also the site of the least-attended (Super Bowl I).
In the case of the USFL's Los Angeles Express, the team may have been better suited had it secured use of Pasadena's Rose Bowl, or perhaps, Anaheim Stadium, for its games.  Instead owners Alan Harmon (and later, J. William Oldenburg) tried to do what they could to fill as many of the Coliseum's seats as possible.
They aren't the only ones to have been tempted by the Coliseum, however, as at one point or another teams such as the AAFC Dons, the AFL's Chargers, the NFL's Rams and Raiders, and the XFL's Xtreme each tried to fill the bowl with paying spectators. 

Back to USFL Stadia