Save the USFL Tapes! The United States Football League video library is at risk. How can you help? Learn more about our campaign to save USFL video, then check out the USFL Video Library Preservation GoFundMe campaign. Please contact me with any questions.
Join the Save the USFL Video Archive Facebook group for updates.
Looking for news and updates on the new USFL?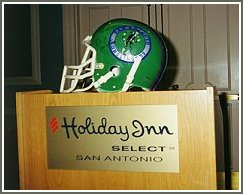 Articles from the San Antonio Express-News
On June 4-7, 1998, the San Antonio Gunslingers held a reunion at the Holiday Inn Select in San Antonio. Many former players, coaches and front office staff attended the event. They included Jim Bates (former head coach, now a Dallas Cowboys assistant), Rick Neuheisel (former quarterback, now head coach at the University of Colorado), Tim Marcum (former assistant coach, now head coach of the Arena League's Tampa Bay Storm) and players Putt Choate (linebacker), Danny Buggs (wide receiver) and Nick Mike-Mayer (kicker). Marcum, whose Storm had a home game on Saturday, flew in for the Friday evening affair, while Bates arrived following a Cowboys mini-camp.
The weekend began on Thursday the 4th with registration and a press conference. The press conference officially kicked off the weekend. Later that night, the team held a private get-together to renew acquaintances and rehash their glory days.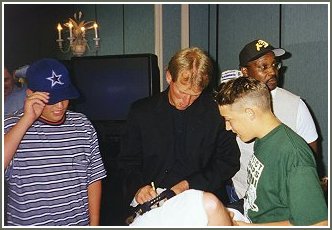 Friday featured a golf outing for the players in the afternoon. A public event was then held that evening. Fans could talk to the players, get autographs, purchase memorabilia, watch highlight films and listen to stories from their favorite Gunslingers. Bates, Neuheisel, Buggs, Marcum and Choate all had the audience rolling with tales from their time in San Antonio.
Many of their stories centered on Gil Steinke, the squad's first head coach. Once after Steinke told him to run a play that wasn't even in the San Antonio playbook, Neuheisel refused to draw it in the dirt on the field for the rest of the offense to see. "To this day my one regret as a Gunslinger is that I didn't draw out that play," said the former quarterback. "That would have been on every highlight film ever."
The weekend wrapped up with a banquet on Saturday evening and a special chapel service for the team on Sunday morning. Thanks again from all those invited go out to Greg Singleton and his family for all their hard work in organizing the reunion.