Save the USFL Tapes! The United States Football League video library is at risk. How can you help? Learn more about our campaign to save USFL video, then check out the USFL Video Library Preservation GoFundMe campaign. Please contact me with any questions.
Join the Save the USFL Video Archive Facebook group for updates.
Looking for news and updates on the new USFL?


Civic Stadium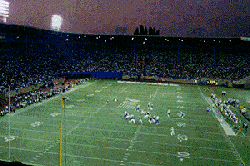 Built in 1926, Civic Stadium in Portland was the home of the USFL's Portland Breakers in 1985, but that wasn't the first pro football team to call the stadium home.  The Portland Storm/Thunder of the World Football League had previously occupied the facility, which seated 32,500 during the era.
Built as Multnomah Stadium and completed in 1926, the city of Portland bought the field in 1966 and renamed it Civic Stadium. It hosted minor league baseball's Portland Beavers and other minor league teams for decades as well as professional soccer.
Later Civic Stadium gained new names, PG&E Stadium and later Providence Park. In the process, substantial renovations rendered it unsuitable for baseball, the stadium became primarily a soccer venue for MLS' Timbers.

Back to USFL Stadia