We are in the process of preserving USFL video. More than three-and-a-half decades have passed since the USFL last played football, and video of its games is in more danger every day of being lost or destroyed. If you have any video, including partial or complete games, coaches film, highlights, news footage, coaches shows or anything else, please contact us.
Check out the searchable USFL stats from the Stats Crew.
Order the book, The United States Football League, 1982–1986.


Civic Stadium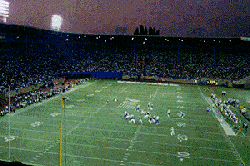 Built in 1926, Civic Stadium in Portland was the home of the USFL's Portland Breakers in 1985, but that wasn't the first pro football team to call the stadium home.  The Portland Storm/Thunder of the World Football League had previously occupied the facility, which seated 32,500 during the era.
Built as Multnomah Stadium and completed in 1926, the city of Portland bought the field in 1966 and renamed it Civic Stadium. It hosted minor league baseball's Portland Beavers and other minor league teams for decades as well as professional soccer.
Later Civic Stadium gained new names, PG&E Stadium and later Providence Park. In the process, substantial renovations rendered it unsuitable for baseball, the stadium became primarily a soccer venue for MLS' Timbers.

Back to USFL Stadia