We are in the process of preserving USFL video. More than three-and-a-half decades have passed since the USFL last played football, and video of its games is in more danger every day of being lost or destroyed. If you have any video, including partial or complete games, coaches film, highlights, news footage, coaches shows or anything else, please contact us.
Check out the searchable USFL stats from the Stats Crew.
Order the book, The United States Football League, 1982–1986.
Fred Bullard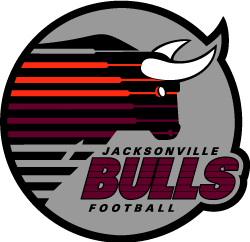 Fans of the Jacksonville Jaguars should pay a debt of gratitude to Fred "Bubba" Bullard, for without his efforts its likely the NFL wouldn't call Jacksonville home today.
Granted an expansion franchise for 1984, Bullard put together a team that wasn't terribly successful on the field, but which did well at the gate, averaging roughly 45,000 in attendance over the team's two years. After 1985 the Bulls and Denver Gold merged in preparation for the move to fall in 1986, but following the USFL's famed anti-trust suit against the NFL, the Bulls and the rest of the USFL ceased operations.
Following the Bulls demise, Bullard went into banking, acquiring the Holiday Bank and rebranding it Florida State Bank. It collapsed in 1991, whereupon the normally upbeat Bullard compared the investments rather succinctly, "They were both equally stupid."