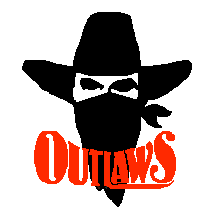 Oklahoma/Arizona Outlaws

Years of existence: 1984-1985
Owner: William Tatham
Stadium: Skelly Stadium (40,235) 1984, Sun Devil Stadium (70,030) 1985
Colors: Black, red and white 1984; Black, copper, red and white 1985
Overall Regular Season Record: 14-22 (.389)
Overall Playoff Record: 0-0


Yearly Standings and Average Home Attendances
1984:
6-12 (21,038)
1985:
8-10 (17,881)
The Oklahoma Outlaws became one of six expansion teams to take the field in 1984, but the franchise was originally supposed to land in San Diego. When a stadium lease proved impossible in California, the Outlaws shifted their operations to the unlikely city of Tulsa, Oklahoma. The Outlaws shot out of the gate with a 6-2 record, good enough to tie the defending champion Michigan Panthers for the Central Division lead near the midpoint of the season. Ten straight losses later, Oklahoma and coach Woody Widenhofer found themselves watching the playoffs on television. The Outlaws' defense allowed an incredible 309 points in the losing streak, and Oklahoma finished last in the league in rushing.
Former Tampa Bay Buccaneer QB Doug Williams threw for 3,084 yards and 15 TDs but also tossed 21 interceptions before finishing the year on the shelf with a knee injury. Al Williams caught 50 passes for 1,087 yards, and tight end Ron Wheeler caught 51 for 651 yards.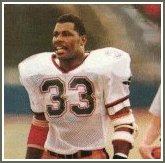 After nearly combining with the Oakland Invaders, the Outlaws merged with the Arizona Wranglers following the season to form the Arizona Outlaws. Frank Kush took over at coach, but the talented team was full of underachievers. Williams had a very good year with 3,673 passing yards with 21 touchdowns, and Reggie Brown ran for 1,031 yards and 12 scores. Williams made 55 catches for 1,020 yards, but the year-long holdout of Trumaine Johnson hurt the receiving corps. Even with the talent from two rosters, the Outlaws couldn't make any headway in the improved USFL.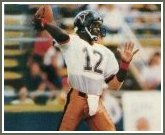 Their Finest Hour: Early in the 1984 season, the expansion Oklahoma Outlaws proved themselves to be masters over their elements, winning in both rain and snow. With the high-powered Houston Gamblers coming in for a March 31 game, the Outlaws needed all the help they could get. Houston lived up to its billing as emerging quarterback Jim Kelly hit Richard Johnson with a pair of touchdowns, and Sam Harrell powered in on two short scoring runs to give the Gamblers a 28-13 lead headed into the fourth quarter. With under two minutes left to play, Sydney Thornton cracked the endzone to bring Oklahoma to within eight points. The Outlaws got the ball back and had time for just one play from the Houston 48. Doug Williams dropped back and heaved a pass to Alphonso Williams who leapt and snatched the ball from the Gamblers' secondary for a touchdown. Williams then found Ted Sample for the two-point conversion and a 28-28 tie. In overtime, Oklahoma left no doubt, driving sharply down field until Efren Herrera's kick sealed Houston's fate, 31-28.